Multi-Layer Co Extrusion Blowing Film Lines
Blown Film Allow 50% CaCo3 & Plastic Bag Remain Good Quality
50 Year continuous endeavors of the company. Y EI innovation and business perpetuity.
Multi-Layer Co Extrusion Blowing Film Lines-HSRT-TR55/65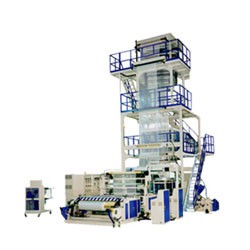 HSRT-TR55/65
Feature
A variety of applications including: Grocery Bags, Merchandise, Garbage, Heavy-Duty Bags, Agriculture Film, Shrink Film, Stretch Wrap and Food Packaging.
MODEL #
HSRT-TR55/65
PRODUCTION
CO-EXTRUSION MULTIPLE FILM
THICKNESS(mm)
0.025-0.25(m/m)
MAX.LAYFLAT WIDTH(mm)
1350m/m
MAX.OUTPUT
(DEPENDING ON SIZE OF DIE.WORKING CONDITIONS AND MATERIALPROPERTIES)
150kg/hr - 200kg/hr
EXTRUDER
GEAR BOX
3 AXLE TRANSMISSIBLE TYPE
SCREW/DIA
65m/mx1+55m/mx2
L/D RATIO
28/1
SCREW SPEED
0-100 r.p.m
MATERIAL OF SCREW
MADE FROM SACM-645 ALLOY STEEL, HARDCHROMED PLATED AND NITRIDED.
MATERIAL OF BARREL
MADE FROM SACM-645 ALLOY STEEL, POLISHED AND NITRIDED.
TEMPERATURE CONTROL
3x2+3x1
MAIN DRIVING MOTOR
MOTOR A.C.
30 HPx2/50HPx1
DIE.
300m/m
AIR RING
350m/m
OSCILLATING TAKE-UNIT
DRIVING MOTOR
1HP AC INVERTER. 0.2kg/M TORQUE MOTOR W/REDUCER
TAKE-UP SPEED
0~80M/min
NIP ROOL FACE LENGTH
1500m/m
TOTAL HEIGHT OF TAKE-UP UNIT
8000m/m
WINDER
TYPE
SINGLE OR BACK-TO-BACK TENSION WINDER
MAX.WINDING WEB WIDTH(max.)
1350m/m
WINDING MOTOR
0.5kg/M TORQUE MOTOR W/REDUCER
MAX.WINDING WEB DIA.
500m/m~1000m/m
WINDING SPEED
0~80M/min
CONTROL PANEL
ISOLATED TYPE WITH COMPLETE SET OF HIGH GRADE ELECTRICAL PARTS.
Operational Video